Continue the Conversation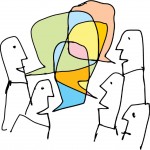 This past week I had a discussion with a couple of fellow believers who had had a significant conversation with an elderly person who was in the last days of his life.  They were talking to him of the grace and forgiveness offered by God.  His response was, "I have cheated and lied.  I have not treated people properly.  God will not let me into heaven."  They did not know how to respond.
What would your response be?  How would you carry on this conversation?
I will give a possible response from my perspective at the end of the article, but at this point I would like to propose that people in our churches are having significant conversations like this in many different forums (hospitals, schools, work, playing sports) and with a variety of people (friends, family, acquaintances).  What we require is support from other believers to discover how to continue the conversation.
Significant Conversations
Significant Conversations is designed to help believers as we talk with the people in our lives about the important issues of life. Coaching for churches encourages the development of a culture of prayer and mutual support that further strengthens the impact of significant conversations in our lives.  The purpose statement for coaching Significant Conversations is to equip groups of "champions" in local churches for the role of initiating, supporting and encouraging other believers as they engage those outside the church in significant conversations.  This includes:
To read the rest of the article visit <a href="http://impact losartan dosage.nbseminary.com/75-%E2%80%9Cgod-will-not-let-me-into-heaven%E2%80%9D/">Cross-Cultural Impact