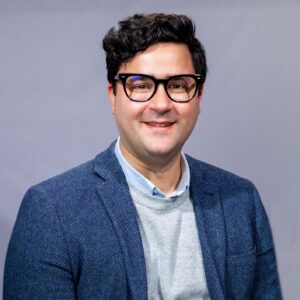 Michael Morelli, Ph.D.
Assistant Dean
Assistant Professor of Theology, Culture and Ethics
Michael is our in-house philosopher and theologian, ready for any conversation that involves serious, and sometimes not so serious, thought. When not cooking up thoughts, he'll happily cook you a meal or brew you a coffee. His wife and sons keep him hopping, and his guitar keeps them rocking.
Education
Ph.D. in Theological Ethics, University of Aberdeen, School of Divinity, 2019
M.Th in Theological Ethics, University of Aberdeen, School of Divinity, 2017
M.A. in Christian Studies, ACTS Seminaries, 2014
B.A. in English and Communications, Simon Fraser University, 2009
Publications
Desert, Wilderness, Wasteland, and Word: A New Essay by Jacques Ellul and Five Critical Reflections (editor, forthcoming volume).
"Michael Morelli." Générations Ellul. Soixante héritiers de la pensée de Jacques Ellul: Tome Deux (forthcoming book chapter).
Theology, Ethics, and Technology in the Work of Jacques Ellul and Paul Virilio. Lanham, ML: Lexington Books, 2021.
"What's in a Name? Jacques Ellul's Reading of Naming in Genesis 1–3." Jacques Ellul and The Bible: Towards a Hermeneutic of Freedom. Eugene: Wipf and Stock, 2020.
"The Athenian Altar and The Amazonian Chatbot: A Pauline Reading of Artificial Intelligence and Apocalyptic Ends." Zygon: Journal of Religion and Science 53, March 2019.
"Charlottesville vs. The Real Revolution." Political Illusion and Reality: Engaging The Prophetic Insights of Jacques Ellul. Eugene: Wipf and Stock Publishers, 2018.
"Aura 2.0: The Technoscientific Return of Art's Religious Value." Implicit Religion 20.3, 2017, 245-257.
"The Judgments We Make: Justice in a Digitised World." Granite Interdisciplinary Journal 1.1, 2017, 7-10.
"We're All Living in the Upside Down: Stranger Things is About the Internet's Dark Sides." Salon.com, 2016.
Courses Taught
THS 602 - Christian Ethics (lecturer)
CBE 105 - Be in Community (lecturer)
CBE 106 - Be a Disciple (lecturer)
Professional
Assistant Dean & Assistant Professor, Theology, Culture & Ethics, Northwest College and Seminary, 2019 – Present
Administrative Coordinator, Religion and Surveillance Network, 2017-2018
Communications Coordinator and Managing Editor, Village Church, 2013-2015
Worship Arts Pastor, The Port Church, 2011-2013
Interests
Theological ethics, or the ways God confronts and changes the realities that make up our existence
Theology, morality, culture, politics, and technology