Introducing Dr. Joel Korytko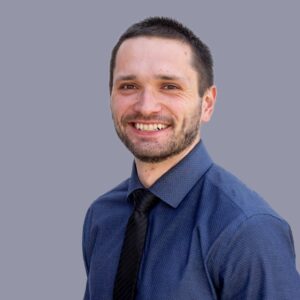 Northwest is pleased to announce the hiring of their newest faculty member, Dr. Joel Korytko, as Assistant Professor of Biblical Studies and CBTE Program Director. His role will include teaching and scholarship, with his primary responsibilities being the academic mentorship of numerous CBTE masters' students and the overseeing of academic mentors within our CBTE programs.
In many ways, Joel's connection to Northwest began with a life defining conversation at a photocopier. At the time, Joel had been encouraged by a mentor to seek out a respected and knowledgeable individual who could help him develop as an academic. He determined he would speak to Dr. Larry Perkins and ask him what was intriguing him that he did not have an answer for and that needed to be researched. Joel approached Dr. Perkins while he was involved in the mundane act of photocopying. Dr. Perkins' answer to Joel's question set the trajectory for the last seven years of Joel's life and became the subject of both his masters and doctoral thesis.
Hence, for six years Joel studied the influence of Greek law on the Septuagint translation of Exodus, making many new discoveries while completing his Master of Theological Studies at ACTS and his Doctor of Philosophy at Oxford.
During these years, Joel was mentored by Dr. Perkins, and greatly encouraged by Dr. Howard Andersen. While completing his MTS, Dr. Perkins invited Joel into research projects and had him serve as his TA. During his doctoral studies, Dr. Perkins invited him to co-author The Society of Biblical Literature Commentary on the Septuagint: Exodus. Dr. Andersen built a relationship over the years and reached out to encourage him towards contract teaching. When Joel's studies were completed, Dr. Perkins invited him to assist in teaching.
Joel's research has allowed him to develop expertise in the areas of Septuagint studies, Pentateuch, the New Testament use of the Old Testament, and Pauline studies. He has began publishing, writing an article for The Journal of Septuagint and Cognate Studies, a chapter in the upcoming publication Themes and Texts, Exodus and Beyond, and the commentary already mentioned. He is also about to publish his first monograph with Brill (JSJSupp). This book will cover the contents of his dissertation at Oxford.
When asked about what passions drive him, Joel responds that, "I am driven by the desire to know what the text in front of me says, and particularly because we're reading the Bible. This is the most important text you could possibly read on planet Earth. Studying the Bible is like a roller coaster of a journey: you learn one thing and you realize that you now have to reconsider three other things based on that. I'm constantly fascinated as I study the text, its ancient context, and how it's teaching profound things about God.
"I am passionate more than anything about Biblical literacy and education—whether that's in the pew, or in a classroom, or online, or whatever. I want people to thoughtfully, generously, and graciously engage a text because it's really easy to get aggressive, boxed in, or myopic in one's perspective rather than being gracious to our brothers and sisters in Christ who might see things differently."
This passion will serve him well as he engages students in theological discussion. He sees his academic mentoring role to "promote a holistic, healthy, deep, and rich understanding of the biblical text in such a way that it forms people to be worshipful disciples of Jesus… A good reading of the text is formative because what you believe about the Bible, what you believe about God, will inform the way you live, the way you think, the way you engage in relationships in your day-to-day life. We need to exercise the utmost caution, respect, and due diligence when it comes to approaching the Bible. So I want to bring that approach into every role that I have here and to help others do the same."
Joel also recognizes that mentoring goes beyond the academics, both for himself and the academic mentors he'll be overseeing. "I want to see good mentors who are engaged. To be a good mentor is difficult. It takes commitment. It takes sacrifice. It takes openness and it takes humility. It means really taking the center off yourself and putting it on to somebody else so that you can help them to see beyond their current state to who they might be."
On the personal side, Joel is happily married to April, with whom they have three young children. He enjoys reading, weightlifting while listening to biblical studies podcasts, hunting with his brother, and tending to his massive vegetable garden. He has attended Sardis Fellowship Baptist for over a decade and serves in worship ministries on electric guitar, preaches the occasional sermon, and dresses in a superhero costume for summer VBS!
Northwest welcomes Dr. Korytko to our team. We pray that his desire for thoughtful theological engagement, academic excellence and humility in mentoring will be fulfilled through the gracious hand of our God.