Alumni Profile: The Heart of the City
Nikki Lanigan, Student Services
Rev. Dr. KwangShik Kim is a graduate of Northwest Seminary & College, completing his Doctor of Ministry in 2018. He is married to Younghee Kim and is father to his daughter Yewon (age 13) and son Seongwon (age 10).
It is early morning and Rev. Dr. Kim sits quietly in the chapel. The pet food store next door has yet to open and only a few lights are on in the administrative offices of the red brick building across the street. In the silence he can pray, for this church, its congregants, and this city. In a couple hours there will be activity and noise everywhere. Transit busses will fight the city traffic to bring people to work. The employees in the red brick building will administrate the processes for the life-saving surgeries occurring in other hallways. And the dog owner will buy yet another treat for their beloved hound. This is 1155 Thurlow Street – Galilee Korean Presbyterian Church - in the heart of Vancouver.
Rev. Dr. Kim has called Galilee Church home for many years. He has been involved in worship, education, and discipleship ministries. He has participated in visitation and care ministries. And he's led both local and international missions.
But today is different. It's May 15, 2022. Rev. Dr. Kim stands at the front of the church facing the pulpit, his wife standing beside him in support and solidarity. He is being commissioned as the new lead pastor of Galilee Church. His heart is full of gratitude towards God, and full of passion for the purpose to which God has called him.
Part of the journey towards his new pastoral role involved study at Northwest. As Rev. Dr. Kim was preparing to study abroad he heard that Northwest was starting a Doctor of Ministry (KDMN) program in the Korean language that offered lectures from Western professors. His interest in Christian and missionary leadership aligned perfectly with the focus of the KDMN program. So in 2016 Rev. Dr. Kim joined the second class of the KDMN program.
"The Northwest Doctor of Ministry program provides a well-rounded, quality education. In particular, you can listen to lectures from professors who are well versed in each field, and have acquired skills from years in missionary work. You can take all your courses in Korean and write your thesis on topics of interest. Therefore, the Northwest Doctor of Ministry program is a comprehensive training program both intellectually and spirituality," reflected Rev. Dr. Kim.
"I was able to demonstrate biblical leadership in terms of shepherding," comments Rev. Dr. Kim, "and I was able to acquire methods and skills to understand culture."
These skills align perfectly with the purpose of the church. Planted in September 1994, Galilee Church was started for the purpose of missionary work amongst foreign students. Its first pastor, Pastor Young-taek Cho, devoted himself to teaching the Word of God to Korean youth who came to Vancouver to study. In May of 1997, the church moved to downtown Vancouver with a desire to see their youth live a life of distinction through the Word, without being tainted by the culture of the world.
Today, when Rev. Dr. Kim is asked his vision for the church, he responds that "First, Galilee Church is a church where the Lord is the Lord. Galilee Church, which was established with the price of the Lord's blood, should never be a man's master. Only the Lord must rule and lead."
To this end, Galilee Church is working with three visions: to be a serving church, a nurturing church, and a missionary church. "Therefore, the members of the Galilee Church, gather in downtown Sodom and Gomorrah every Sunday to confess that they are of the Lord, to receive the grace He has granted, and to live as children of light who return to their respective places of life to reveal the light of the glory of Jesus Christ," declares Rev. Dr. Kim.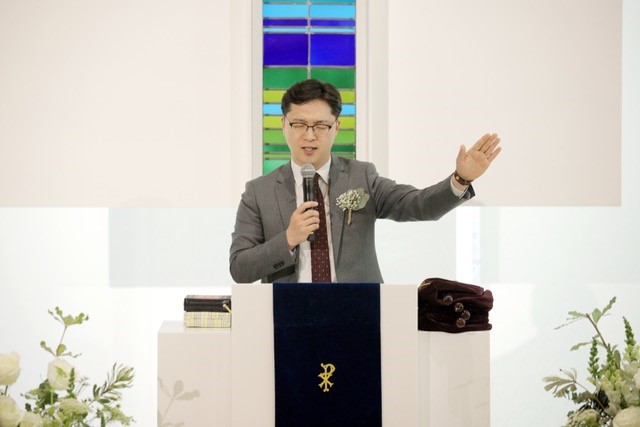 "I seek a fruitful life. We believe that what pleases the Lord is fruit. A good tree is a tree that bears a lot of fruit. We believe that good disciples are those who bear much fruit. As we well know, fruit does not bear itself by itself. It must be accompanied by sweat, tears and toil. I believe the Lord's comfort is in those who bear fruit through this sweat, tears and toil. I trust in the Lord who will give true rest to those who labor and are heavy laden," proclaims Rev. Dr. Kim.
At Northwest, we are proud and humbled by the ministry, words, and accomplishments of Rev. Dr. Kim. His work leaves us grateful to God for our opportunity to pour into the lives of men and women such as him.
In reflection, it seems only appropriate that Galilee Church and Rev. Dr. Kim be situated across the street from St. Paul's Hospital. St. Paul's is renowned for its Heart Centre, offering the best cardiac care in the province. A quick trip across the street from St. Paul's will bring you cardiac care of a different kind: the healing of both heart and soul.