Daniel Park, Th.D.
Associate Professor of Leadership, Director of Korean Language Programs |

On Saturday, January 15th, 2022 at 2pm, the Pastor Ordination Ceremony for Fellowship Pacific and the Global Korean Mission Centre was held at South Delta Baptist Church. At this Pastor Ordination Ceremony, ten pastors were ordained for ministry within Fellowship Pacific churches: Soon-mo Kwon, Lee-soo Kim, Jong-seung Kim, Ho-jin Kim, Jong-sik Bae, Suk-ho Lee, Ji-geon Jeon, g Jae-hoon Jung, Dong-hyun Choi, and Sang-pil Hwang. In light of pandemic restrictions, the ceremony was held with only members, officers, and immediate family in attendance.
The service was led by Daniel Park. Jinung Son of Manna Church in Vancouver led the prayer, and Yuin Kim of Direction Church in Vancouver read the Bible. Afterwards, Dae-Ho Kim and his wife Hye-Jeong Park, missionaries at the Jesus Love Church in Vancouver, gave a special song. David Horita, the Director of Fellowship Pacific, preached a sermon under the title of, "Go forward by faith."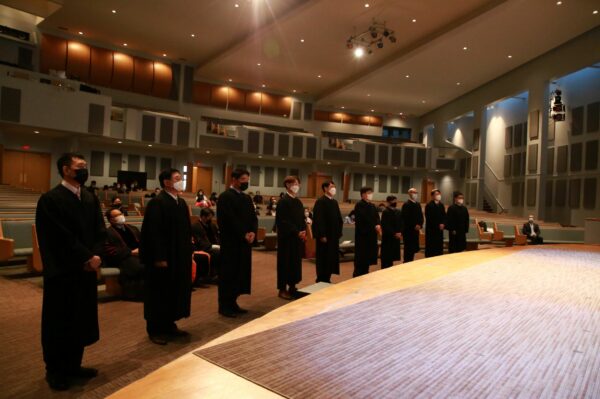 In the second part of the ordination ceremony Byeong-suk Kim of Vancouver Alive Church introduced the candidates, and soon afterward, the vow and laying of hands were held. Daniel Park, David Horita, Larry Perkins, Todd Chapman, Elizabeth Faulkner, Archie Spencer, John Park, Joshua Kim, Don Chang, Byungsuk Kim, Jeehoon Kim, Jonathan Chung, Jinung Son, and Yuin Kim participated as members of the ordination. The ordained pastors were robed by David Horita, Todd Chapman, and Elizabeth Faulkner, and then Daniel Park announced the ordained men as pastors of Fellowship Pacific Churches.
The third part of the ceremony involved exhortations and congratulatory speeches. After conferring the certificates of ordination to the new pastors, Larry Perkins, President Emeritus of Northwest Seminary, exhorted them from 1 Thessalonians 1:6., Todd Chapman of Fellowship Pacific and Archie Spencer of Northwest Seminary gave congratulatory remarks, and Eui-Jong Kim of Abbotsford Korean Church gave an encouraging speech. After that, confirmed ordination candidate Suk-ho Lee, pastor of Sam Hill Community Church, commented that they gave all glory and thanks to God and asked for prayer for those ordained. The ceremony was concluded with a benediction given by Soo-jun Park, the former chaplain of Chongshin University Korea.
Pastors who were ordained graduated from the Master of Divinity (MDiv) program at Northwest Seminary/ACTS. Through the deliberation of a committee comprised of representatives from Fellowship Pacific, Northwest Seminary, and the Global Korean Mission, these men were ordained as pastors for Fellowship Pacific churches. It is expected that the new pastors - who were ordained in this glorious ceremony through the collaborative work of the Global Korean Mission Centre, Northwest Seminary, and Fellowship Pacific - become pastors guided by God in Korea, in Canada, and around the world.