Northwest Announces New President
THE BOARD OF GOVERNORS AT NORTHWEST SEMINARY AND COLLEGE ANNOUNCES THE APPOINTMENT OF NEW PRESIDENT, DR. BARTON PRIEBE.
Dr. Barton Priebe will become its ninth president, effective August 1, 2022.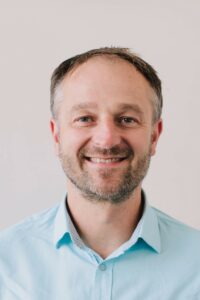 Barton is well-prepared to take on this new role, with over 20 years of experience in pastoral ministry, a Doctor of Ministry (2020) from Northwest through ACTS Seminaries, a Master of Arts in Christian Studies also from Northwest through ACTS (2002), and a Bachelor of Arts in Missions from Columbia Bible College (1998). He is an inspiring preacher and teacher, dedicated to applying the truths of scripture to life, faith, and culture. He is the author of Adopted by God: Discover the Life-Transforming Joy of a Neglected Truth (2021), and The Problem with Christianity: Six Unsettling Questions You Have Asked (2015). He is also a contributing author to Everyday Apologetics: Answering Common Objections to the Christian Faith (2020).
Barton has served as Lead Pastor at two Fellowship churches—Central Baptist Church in Victoria, BC, and Dunbar Heights Baptist Church in Vancouver—where he built a strong record of leadership, discipleship and church growth. He is passionate about leadership development, and was among the first Fellowship Pacific pastors to embrace Northwest's mentored, in-context competency-based model of theological education called Immerse.
Barton is deeply connected to Northwest's home denomination, Fellowship Pacific, and the various ministries associated with it. He has served for 5 years as a member of the Fellowship Pacific Board, and currently chairs a committee focused on the theological and ethical identity of Fellowship Pacific. He has been involved with Camp Qwanoes for decades, and in the 90's served a summer as Head Counselor at Sunnybrae Camp.
Northwest's Board of Governors formed a Search Committee in 2021 led by Rev. Paul Park, and performed an extensive Canada-wide search for a new President. Dr. Priebe's name was put forth repeatedly by many church, school, and denominational leaders, and he was quickly identified as a leading candidate. After extensive interviews, the Board of Governors unanimously confirmed and approved his appointment. "As we concluded our search for a President at Northwest," says Northwest Board Chair, Dennis Wasyliw, "we couldn't have been more pleased that our strongest candidate was Dr. Barton Priebe. He has always been strongly committed to our Fellowship in BC and has a real sense that God has been preparing him for this role."
Barton's appointment was publicly announced on April 28th at the Fellowship Pacific annual conference in Abbotsford, BC, where he commented:
"I have always had the sense that my life would have two parts to it: first, to serve on the frontlines of Christian leadership as a Lead Pastor and, second, to move full-time into a role that would train up the next generation of Christian leaders and pastors. I want to see leaders and pastors who are marked by godly character, deep theological understanding, and the skills needed to work out the gospel within their given context. Northwest is already doing innovative work to accomplish this through its competency-based theological education and traditional course-based programs. I look forward to joining what God is doing at Northwest and ACTS Seminaries, as well as among our Fellowship Baptist churches and beyond to God's wider Kingdom."
Barton will be moving to the Fraser Valley over the summer. He will be joined by his four children ranging in age from 10 to 17. The family loves skiing and has already purchased season passes to Mount Seymour. Along with spending time with his family on the slopes, Barton enjoys ultra-distance cycling, reading, and exploring the beautiful west coast.
Barton says his vision is "to form thoughtful practitioners for the glory of God; Christian leaders whose theological understanding is robust and who possess the skills to be wise and effective in the roles God has given them. As our culture continues to become more secular, I long to see a generation of leaders raised up who love Christ and are equipped to serve so that lost people are saved, the Church is strengthened, and God's name is exalted among the nations."
Northwest couldn't agree more.
Welcome to Northwest, Barton!
Northwest Seminary and College is the official theological education and leadership development agency of the Fellowship of Evangelical Baptist Churches of British Columbia, the Yukon, and Territories (Fellowship Pacific), and Alberta, Saskatchewan, Manitoba (Fellowship Prairies). Since its inception in 1934, Northwest exists to prepare effective pastoral and lay ministry leaders in context for service to churches and agencies in the Fellowship denomination and beyond.
Northwest is also a founding member of the ACTS Seminaries consortium, a partnership of four Canadian seminaries working together as Trinity Western University's graduate school of theology to form and equip men and women to serve God in the church and the world.
CONTACT:
Dennis Wasyliw, Northwest Seminary and College
Chairman, Board of Governors
604.888.7592