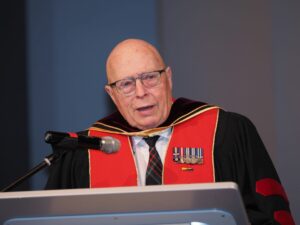 It was a special honor for Northwest to award the Doctor of Divinity, Honoris Causa, at the 2022 Graduation, to Chaplain Jim Turner.
The Doctor of Divinity degree is the highest recognition conferred by Northwest. It requires a minimum of 10 years' service in a particular field, recognition by one's peers for outstanding achievement, evidence one has made a significant contribution to the advancement of their field, and evidence of consistent Christian testimony that will serve as a model to Northwest students, employees, and constituents.
Northwest's Chancellor, Dr. Garry Grams affirmed that "in recognition of his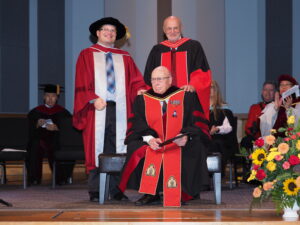 chaplaincy ministry, which not only meets but exceeds our criteria for this award, our Senate and Board of Governors wish to recognize his efforts with this honorary doctorate of divinity."
Chaplain Jim Turner has been serving as a chaplain for the RCMP for the past 32 years. In this role he has served as mentor, advocate, educator, and promotor of spiritual care to officers, volunteers, staff, their family members, and other chaplains serving in the policing community. In October 2021, at 75 years young, Jim became the National Chaplain for the RCMP.
Deputy Commissioner Dwayne McDonald, Commanding Officer "E" Division spoke at the ceremony. He first met Jim almost 30 years ago when Deputy Commissioner McDonald was a recruit fresh out of the training academy. Jim jumped into his police car as chaplain and they rode together on his patrol.
"During that time he has been my chaplain, my counselor, and more importantly, a friend. He has shepherded me through some incredibly challenging times," commented Deputy Commissioner McDonald. "He doesn't preach. He speaks wisdom. He hasn't chastised, but he guides with comfort and love. Most of all he listens, he feels, he understands, he has compassion."
Dr. Herb Sturhahn, shared in regards to the relationships Chaplain Turner has with him and with others. "He was my student. He was my pastor. He is my friend. And presently for the very many members of the Royal Canadian Mounted Police, he is their padre. But above all this, Jim Turner is God's servant."
Perhaps the significance of Jim's role as chaplain is best summarized in the words of Commissioner McDonald, "I know of no-one that has had more constant and more steady and more positive and edifying impact on policing than yourself."
Thank you and congratulations, Jim.